Voice of America Interview
<![if !supportEmptyParas]> <![endif]>
Marjorie Mikasen:
The Bright and Dark sides of Chemistry in the Movies
VOA Serbian Service
Broadcaster: Branko Mikasinovich
Interview aired August 30, 2009
Duration: 4 minutes
English Transcript
<![if !supportEmptyParas]> <![endif]>
<![if !vml]>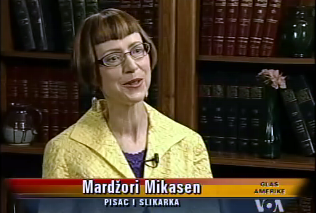 <![endif]>
Serbian American author Marjorie Mikasen and her husband Mark Griep have written the book ReAction! Chemistry in the Movies
The coauthor of the book talks to Glas Amerike
<![if !supportEmptyParas]> <![endif]>
BM: What prompted you to write this unique book about chemistry and the movies?
<![if !supportEmptyParas]> <![endif]>
MM: Our book looks at the dark and bright representations of chemistry in 110 movies. It takes its 2 part structure from the most famous chemist in the movies, Dr. Jekyll. But it was another movie chemist, Elvis Presley, who gave us the idea to write the book. About 9 years ago we were watching Clambake when halfway through the film Elvis turned into a chemist. My husband Mark Griep is a chemistry professor who was looking for ways to reach students in the classroom. We looked around and no one had written about chemistry in the movies, so we said why don't we do it. Doors seemed to open for us. We received a generous grant from the Alfred P. Sloan Foundation Public Understanding of Science and Technology Program that enabled us to visit film archives in L.A. and London. Oxford University Press USA gave us a 2 year contract to write the book and we watched over 300 movies for the project.
<![if !vml]>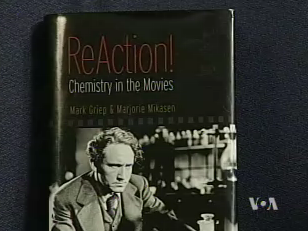 <![endif]>
<![if !supportEmptyParas]> <![endif]>
BM: So far, how has the book been received; who buys it mostly, and what do you hope to accomplish with it?
<![if !supportEmptyParas]> <![endif]>
MM: We are here in Washington to sign books at the American Chemical Society national meeting. This group is the largest scientific organization in the US, so we anticipate a lot of interest. We launched the book two weeks ago at the University of Nebraska. It was a sold out event that included a book signing, a reception and a showing of the 1931 film The Invisible Man. We sold lots of books, and had a great response. The audience was made up of scientists, chemistry professors and students, and community people, people interested in science and its impact on society. Our goal is to show the beauty and complexity of chemistry; its relation to human problems and human problem solving.
<![if !vml]>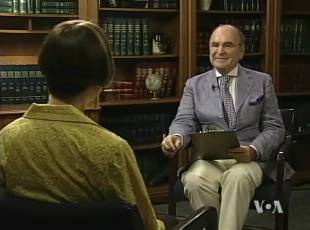 <![endif]>
<![if !supportEmptyParas]> <![endif]>
BM: You are also a painter and designed the art on the back cover of the book. Can you tell us a bit more about that and briefly about your art in general?
<![if !supportEmptyParas]> <![endif]>
MM: I have been painting in the geometric style for the past 20 years. Chemical ideas and concepts have often appeared in my work. I wanted to find a visual way to express the overriding theme of the book. So I created this painting called Jekyll and Hyde. It is a two part piece with a split down the middle, like the Dr. Jekyll character himself. Design elements include a filmstrip and the colors in the painting correspond to the color changes that take place in the Hyde formula that were described by Robert Louis Stevenson in The Strange Case of Dr. Jekyll and Mr. Hyde. There is a stick model of a molecule. This is the molecule that turns Dr. Jekyll into Mr. Hyde. My husband, Professor Mark Griep, has figured this out, but to find out what it is you will have to read the book.
<![if !supportEmptyParas]> <![endif]>
© Marjorie Mikasen, All Rights Reserved


Home
<![if !supportLineBreakNewLine]>
<![endif]>